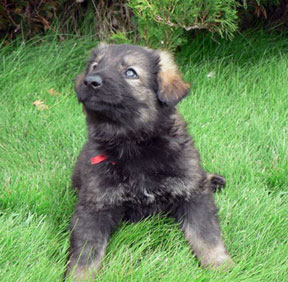 If you have done your research and have decided that a Shiloh Shepherd is definitely the dog that you are wanting to add to your family AND have read the Guardian Kennels Sales Contract as well as our Xray and Spay / Neuter Agreement contract and feel that you can abide by them, it is time to contact us and start the process! Prior to sending a deposit on a pup, please either contact us to check on availability in our litters and to give us a chance to review your request. A Shiloh Shepherd is not for everyone and we would like to determine that we may produce what you are looking for and that you would be a good match for one of our pups prior to accepting a deposit. Once this has been done, you can print off and mail in the Pre-Adoption Questionaire along with deposit. The more that you can tell me about yourselves and your families, your lifestyle and what you would like to do with your pup, the better idea it gives me as to what kind of pup would do well in your home.



Deposits




* Please contact us directly for pricing on our pups as this varies with Breed/Pet quality. I take a $400 deposit on my pups. This separates the people who are genuinely committed to getting a pup as opposed to those who are just kind of interested. If I do not produce what you are looking for (i.e. you are looking for a male and I produce all females) then I will gladly refund the deposit. If you change your mind or decide to go with another breeder/breed then the deposit is non-refundable (as I would have turned away other clients due to your commitment). Deposits may be carried over to the next year for a maximum of two years.
* As demand is usually greater than supply and our litters tend to sell out, we recommend you reserve or secure a puppy early, this is especially true of breed quality pups as the supply of these pups is not as plentiful in any given litter.

Please be advised that, due to the limited gene pool in our breed, it is extremely important that some pups from each litter are made available for breeding in order to carry our genetics forward. Preference will be given to Breed Quality pups being placed in a home dedicated to allowing that dog to be bred.

How is my puppy picked?
I get asked many times why clients can't pick their own pups from the litter. Shilohs are not placed as most other breeds. The breeder does not go down the list in application order and let you pick a puppy or just hand out any puppy. We want to place the right puppy with the right people. This saves, say, Grampa and Gramma, who really want a laid back couch potato dog from getting the most outgoing, energetic pup in the litter as THAT is the pup that is often the first one to run up to new people, not because he 'likes you' but because he thinks he owns the world! If he were to go to Grampa and Gramma, he would possibly turn into the dog from hell because he would be too energetic and would not get what he needs to become the dog that he was meant to be. In a home with, perhaps a runner where the pup gets to burn off some excess energy every day, he would be happy and be a great dog to live with.

This process is started with your application and conversations with the breeder. Suppose you want a puppy that cuddles, wants to stay with you all the time, but is an "up" personality for going on long walks and will play ball. You want this dog to also be fearless with strange situations. You only want a male and you want a plush coat. You don't really care about color but really like the brown/gold sables. These are your requirements and this is the puppy the breeder wants to give you.

This is accomplished with the LER (Litter Evaluation Report) which is done at eight weeks. Each puppy goes through a temperament test which tells the evaluator what kind of temperament the pup has (soft, medium soft, medium, medium hard, hard) as well as how he/she will react in various situations. Then each puppy is evaluated for conformation. This details all the positive and negative physical structural characteristics of the pup according to the breed standard. From this examination, the evaluator can determine if the puppy is a pet, breed, or show quality.

After the LER, the breeder and evaluator will go over the requirements of each applicant and the qualities of each puppy. If you want a cuddle/clinging dog, only pups that show that quality will be considered. If you want a dog to run with, the very quiet laid back ones are not what you are looking for or need.

The only time your "placement order" comes into play is when there are two or more people with the same requirements. The only time you may get to choose between pups is when there are two or more that meet your requirements. However, in your case, let's say, two pups do meet your needs: one is a gray sable while the other is a brown sable. You will then be offered the brown sable as this was a desired requirement if possible.

If your requirements are very specific, you may have to wait through several litters. However, the wait is always worth it because you get the pup you want and do not have to settle for something that is not.