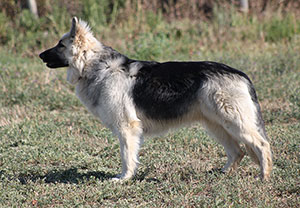 Guardian's GOING THE DISTANCE - "Eleiko"
DM test - Clear Auscultation: Clear
Holter Tested: Clear PennHip: 0/31/0.35 OFA Elbows: Normal

Eleiko is our last breeding girl here at home. When Jetta had her final litter in 2017, I had decided that I would be finished with my dog breeding career. As the pups grew, one certain girl kept catching my attention. By 8 weeks, I knew I had to keep her. Eleiko (Guardian's Going the Distance) was that puppy and she has matured into the stunning girl that I saw glimpses of at 8 weeks.

Beyond her beautiful black and silver colouring and great structure, Eleiko is extremely athletic. In her view, the world is meant to be seen at a run with a big grin on her face. She has a very care-free disposition, is fazed by very little and has an amazing sense of humour. We are thrilled to be able to continue on the legacy that began with Tiara and carried on through Jetta. We are excited to see what Eleiko will now bring to our program. Eleiko now carries the torch and is living up to her lineage as we see these amazing dogs in her background being expressed in her progeny.