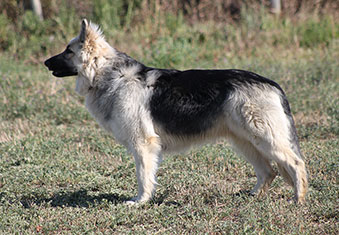 After the incredible success of the Eleiko/Django litter last spring, we thought it would be a shame to not repeat the pairing. But in order to bring some new genetics into our program, we decided to throw a bit of a twist into the mix and breed a dual-sired litter with Arkan.
The Eleiko/Django pairing represents the culmination of our breeding program at Guardian Kennels. Every dog that has come through our program is represented in the combination of Eleiko and Django and, as a breeder, it doesn't get much more satisfying than that!
Eleiko's focused, exuberant personality will bring some character to these pups. Her strong structure and width of body exemplify many of the goals that we aim for in our breedings.
Django brings to the match incredible length of leg and wolf-like movement along with strong hips and a rock solid disposition.
But as a breeder, we are always looking to the future and Arkan, from Echo Shilohs in Indiana seemed like a great choice to bring some new genetics to our program and to the Northwest.
Arkan's beautiful grey sable colouring along with his small ears, beautiful top line and outstanding athleticism will make these pups traffic stoppers.

We expect very confident, athletic, outgoing pups with size and substance. No couch potatoes here. Pups from this combination will be all plush in various shades and colours of dual and sable. Solid blacks are not expected as Eleiko does not carry the black recessive.
All pups will be DNA tested to determine parentage.
These pups will be whelped and raised at Guardian Kennels. Pregnancy has been confirmed. Pups expected March 17, 2020. Very limited room on this litter depending on litter size, sire grouping and gender ratio.

... top right photo: Eleiko