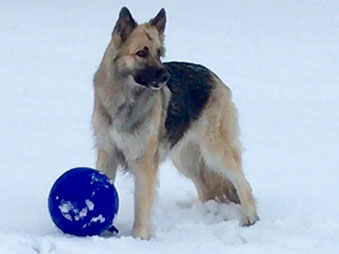 Chassis is the stunning girl that came back to us from the Zanthe/Dexter litter at Dutch Pride Shilohs in the Netherlands. Her athletic, elegant movement and quick smile along with her focus and willingness make her a joy to be around.
Iso is the traffic-stopping boy (and half brother to Riverwind's Lobo) that stands at Sentinal Shilohs. Due to his advancing age and very limited amounts of his genetics being carried on in our gene pool, we decided that this would be a great opportunity to use him in a dual sired breeding. He brings to the table a massive head, beautiful top line and a solid personality.
Jack is a product of the Ruby/Obi litter at Riverwind and is already showing his incredible temperament as a certified therapy dog and a great listener in the children's reading program. His solid structure and mellow disposition will be a perfect combination with Chassis' outgoing nature.

From this combination we are expecting some very level, easily trainable dogs with great leg and volume. All pups will be plush with possible whites.
These pups represent some very unique lines in our gene pool as well as the last of the Shawnee/Guido genetics so we will be looking to place some of these pups in homes that will carry on these lines.
These pups will be parentage verified to determine sire. The Iso-sired pups, especially, are of extreme importance to our gene pool (on both sides of the pedigree) and will be placed carefully in homes that will be willing to carry on these genetics as this may be the last that Iso may be used.
Breeding completed Nov 2018. Pregnancy confirmation pending. These pups will be whelped and raised at Sentinal Shilohs in Waynesboro, PA
All pups sold through Guardian Kennels.

... top left photo: CHASSIS