Guardian Kennels

* Click images to enlarge
* NEW PUPPIES COMING IN 2021!

... please scroll down to see all five pairings

*

ELEIKO / CONLEY

This year we decided to go in a new direction in our pairing with Eleiko. For the first time ever at Guardian Kennels, we have used a smooth coated (traditional German Shepherd length) male in one of our breedings.

Conley is a magnificent smooth male from Fisher Crane Shilohs in North Carolina. I met him in person (or is that "in dog") several years ago at our National Show in St. Louis, MO and have been looking for an opportunity to use him ever since. He brings to the table outstanding structure with a solid stable personality to match along with strong hips and beautiful movement.

Eleiko's focused, exuberant personality will bring some character to these pups. Her strong structure and width of body exemplify many of the goals that we aim for in our breedings.

We expect very confident, athletic, outgoing pups with size and substance. We are expecting pups from this pairing in both plush and smooth coat in various shades and colours of dual.

This pairing represents some lines that are very rare and valuable to our gene pool as this may be the only opportunity for Conley to be used. Due to the rarity of these genes and the importance of carrying them forward, we will be carefully selecting dogs for breeding homes. All of the pups from this litter will be required to complete our health testing (holter, hips/elbows) as is normal. Since I generally request that pets not be altered (neutered or spayed) prior to 18-24 months for the health of the dog, I may opt to collect semen for shipping or freezing on some of the males in order to further preserve these lines.

Eleiko pictured top right; Conley - lower left

These pups will be whelped and raised at Guardian Kennels.

Update: Pups arrived Feb 11, 2021


* Follow the Eleiko/Conley litter here https://photos.app.goo.gl/akz7yZYMwSqi4ovd7

*
MIXAL / CASH
Mixal is our stunning girl from the Kyla/Atticus litter and again, compiles many of our home grown Guardian genetics into a beautiful package. Her solid body with outstanding width and volume along with her regal neck makes her an amazing representation of our breed. Her soft, biddable personality makes Mixal a joy to be around.
Cash, too brings our some of our Guardian genetics full circle and goes back to some of our original dogs. Those, along with the addition of some unique genetics in his grandsire, makes this mix a bit unique.
Cash brings to the table and exceptional length of leg (thank you Gramma Shawnee!) along with small ears and lovely head. These, along with his happy, people oriented personality will be an incredible match to Mixal.

We are expecting all plush puppies in a variety of colours of sable. There is a distinct possibility of solid white pups being produced.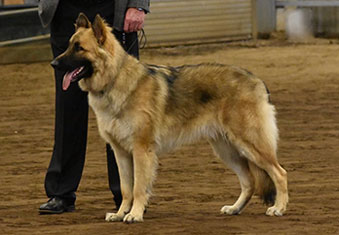 The Mixal/Cash pairing is a co-owned litter in conjunction with Wilderness Kennels on the Sunshine Coast in British Columbia.
This litter will be whelped and raised at Wilderness Kennels. All pups will be sold and placed through Guardian Kennels. Breeding expected early April 2021.

Mixal pictured top right; Cash - lower left
* Follow the Mixal/Cash litter here: https://photos.app.goo.gl/j7nd13Uj9N4LtwgU9

*
JOVI / LOGAN
Jovi is our stunning daughter of Django that is co-owned with Timbaland Shilohs. Inheriting that drop dead gorgeous "WOW" factor from her mother (Indy), Jovi turns heads wherever she goes. She is a big solid black sable girl with heavy bone, huge chest and a personality to match. A sense of humour best describe her fun-loving disposition that she definitely got from both Indy and Django.
Logan is a grandson of Lobo from Riverwind Shilohs in Oklahoma and I have long been looking for a place to use these genetics in my program. Logan's beautiful auburn colouring makes him a stand out in the show ring and on the street. He brings to the table a wide head, level top line and outstanding chest.
We are excited to see what these two will produce together. Character and beauty will be at the top of the list!
These pups will be whelped and raised at Timbaland Shilohs in the Crowsnest Pass, Alberta. All plush pups in various shades of dark sables are expected. Breeding expected early March.

Jovi pictured top right; Logan - lower left
* Please follow this litter at: https://photos.app.goo.gl/6foKjPv1VWvcTwKd7
*
MATSU / CHESTER
A last minute change of plans in this breeding led us to "Plan B" and I pulled some of my 15 year old frozen semen from our incredible stud dog "Chester" (Guardian's Smokin' Winchester) out of storage.
Chester was a product of our very first litter here at Guardian and holds a very dear place in my heart. He had a sense of humour like no other dog I know and could not imagine meeting someone that he did not like nor that did not like him. He stood stud here for many years and produced some incredible progeny. Through the wonder of the technology of frozen semen, we can weave some of these old outcross (Artus) lines back into our current dogs and incorporate some of his outstanding qualities into these pups. He brings to the table a beautiful solid structure with heavy oval bone, wide head and incredible hips.
Matsu proved herself as an amazing mother last year when she reared 11 beautiful pups. Her outgoing, playful disposition, incredible structure and big presence will combine with Chester's to hopefully produce some big, solid traffic stopper pups! Her inviting smile and exceptional willingness to please should make these pups very people oriented and trainable.

These lines as well are very rare and valuable to our gene pool so selection of pups for breeding homes will be a priority. All plush pups with probable dual coloring expected in this pairing
Two females arrived 15 Feb 2021. Due to litter size, this litter is all spoken for.

Chester pictured top right; Matsu - lower left
* Please follow the Matsu/Chester litter at: https://photos.app.goo.gl/jg8tAsVfUAFiiT9z7
*

INDIE / SPARTAN -

updated April 20, 2021
Indie is our Jetta/Lomax girl that in so many ways reminds me of her beautiful mother. Her calm, even temperament and honest, willing personality make her a dream to train. Her unassuming, confident presence reflects the intuitive nature that our Shilohs are famous for. Exceptional size and structure are just a bonus!

Due to the timing of this breeding, we had to make a last minute change in studs (yep, the Guardian girls have thrown a curve ball again!) and we opted to use our handsome Zoey/Timba son, Spartan. Spartan's outgoing personable nature and lovely structure were a great fit for Indie.

Exceptional toplines, strong ears and wide solid bodies are some of the qualities that we expect in these pups. There will probably be a range of personalities in the pups from slightly softer to very outgoing. We are expecting all plush puppies in varying shades of sable and duals.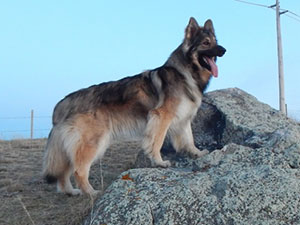 This litter will be raised near Cochrane, Alberta. Breeding completed. Confirmation of pregnancy pending.

* Please follow this litter at: https://photos.app.goo.gl/ZPLcKCh8f9e7VLxB6

Indie pictured top right; Spartan - lower left
Contact Guardian Kennels for more information
(403 362-4381) or
Email Us