Guardian's Django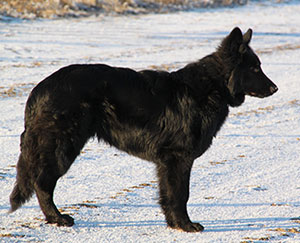 The newest addition to our Guardian pack joins us from Jewell Shilohs in the Netherlands. Aside from being a solid black, which is rather rare in our breed, Django carries some unique genetics that are dear to my heart.

Django' grandmother, Zanthe is out of our own Zoey/Chester litter of 2008 so we were thrilled to be able to bring a piece of these two amazing dogs that were pivotal in the establishment of my breeding program back home to Guardian through this beautiful black pup.

At seven months, Django is proving to be all that we look for in our Shilohs with exceptionally heavy bone and correct structure, an incredibly confident disposition and a great sense of humour. We are very much looking forward to watching this boy grow and develop and anticipate great things in his contribution to our gene pool. Django will be ready for breeding in late summer 2017 pending completed health testing.

* Django recently passed his Holter test with perfect Zeros so has been cleared of GSDIVA.


| | |
| --- | --- |
| | |