Guardian Kennels -
Over the Rainbow Bridge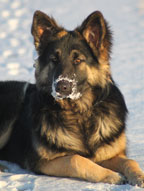 JETTA
Jetta left us suddenly in November 2019 and the hole that she has left in our pack and in our hearts is palpable. Jetta was the beautiful, fair matriarch of our pack for many years. She was the stable, predictable beauty that we all relied on to keep things in order. She did not dominate the other dogs but asked that they behave in a civilized respectful manner. Many leaders could take a page from her book!

Jetta taught us all that life was too short to get into much of a hurry over anything. She lived in the present and loved just hanging out with her people. Nothing phased her as she took each new experience with confidence and enthusiasm and was sure that the world had been put here just for her enjoyment!

She was everything that we breed for in our Shilohs, both in structure and temperament.

Jetta has left many a beautiful progeny in her wake and will long be remembered for her beautiful structure, size and bombproof personality that has carried on through her sons and daughters. Her legacy is carried on here at Guardian through her daughter Eleiko.
TIARA
Tiara was the character in our pack. There was not a day that went by that she did not make me laugh. There was always a glint of mischief in her eye and a trick up her sleeve. I spent more time looking for dog dishes than I can count as she thought that hiding them was a national sport. Tiara was also the girl with the opinion. Her "Woowoowoowoo's" could be heard daily as she was always giving someone (usually me) heck about something or demanding that one of her requests be met.

Her size, solid structure and sense of humour was passed along to her progeny and has become a basis for the dogs from Guardian.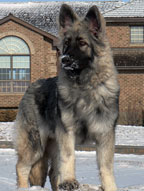 ZOEY
Zoey was my heart dog and the dog to whom I have been most "connected" to. She was the enforcer in my pack and the dog that made any visitors show their ID before she would allow them into her world. If you can imagine a dog standing there with her paws on her hips asking, "Do you belong here?" That was my Zoey.

But with that intensity, came a relationship that I have had with no other dog. She was my sidekick and my best friend and she would jump over small buildings to please me.

Her beautiful wolf grey sable colouring made her a stand out and photos of her were what drew many to my breeding program. She left some amazing progeny behind and I will never forget what she brought to my life and to my breeding program.
CHESTER
"Guardian's Smokin' Winchester" or Chester was our keeper puppy from our very first litter. I can't even begin to describe what he meant to our breeding program as he was pivotal in what kind of dogs I produced - huge bone, beautiful heads and strong structure. But more than his impact on my breeding program, Chester had an impact on our lives. Nobody knew better how to have fun. Chester was just that dog that you could not help but laugh at. He was larger than life with a huge sense of humour and was the dog that taught me that life was truly too short to stay mad at someone (mostly him!). He would do something that made me cross at him and after getting in trouble, had about a 5 second remorse period after which he would look up as if to say, "if you are done being mad, we could go do something fun!" He made me see the lighter side of life and made me truly understand how to live in the moment.
His passing at age 13 was still too soon.
JOCK
I thought that Jock, our Border Collie, deserved to be first on this page as he was the dog that set me on the road to a better understanding of training. I don't know how many of you have ever had the privilege of "training" a Border Collie but it is truly a life changer in the way that you think as you don't so much "train" as figure out how to "communicate" and associate what they do naturally with a signal. It is a thing of beauty watching a dog such as this work with such passion and commitment and very humbling that they will allow us a part of their world. Jock was not so much my dog as my partner. We moved thousands of head of cattle together and his help to me both at my job and on our farm was irreplaceable. He was here when we got our first Shiloh Shepherd (Really mom? Are you seriously keeping him?) and was horrified every time we had a litter of pups as one more seemed to find its way to staying here. Jock lived a fantastic life with us and finally headed over the Rainbow Bridge at the ripe old age of 16.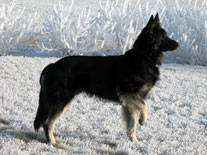 DACOONA
Dacoona was our very first Shiloh Shepherd and came to us from Northern Lights Kennel in BC. When we first got him, we had no aspirations of becoming breeders - we just wanted a fantastic dog. Well, a fantastic dog was exactly what we got. He was everything that the breed said he should be. Regal, confident, beautiful and impressive just to name a few. When he came in a room you could just sense his "presence" and there was no doubt that we belonged to him and that everything under his view was part of his domain! We had never experienced those amazing qualities in a dog and at that point, we knew that we needed to share these incredible animals with the world and thus, set us on the road to becoming Licensed Breeders with the ISSR. Dacoona left us at far too young an age due to a tragic mishap but not before he passed the best of himself on in our boy Chester (Guardian's Smokin' Winchester)
*
LINA
When we decided that we were committed to becoming breeders of these magnificent dogs, we approached Tina Barber, the Breed Founder, to find us a female to match and compliment Dacoona. In December 2000, Lina joined our family. Lina brought to our program incredible bone structure, broad heads and chests and impressive width and depth off body. She brought to our hearts the most loving, laid back girl you could ever hope for. For years I heard of the "Artus drive" that many of his progeny displayed. Somehow Lina missed out on that as she was never in much of a hurry to do anything and felt that there was ALWAYS enough time for a pet and a belly rub. She taught me to slow my life down and to always take time to stop and smell the roses as you never know when you might get the chance again. Lina will forever be in our hearts as we remember her sweet nature and beautiful spirit.