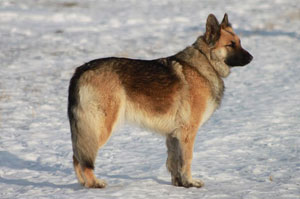 Guardian's GYPSY GILLIAN - Zion - "Gillian"

DM - Clear
OFA hips - Excellent OFA elbows - Normal



Gillian came to call Guardian Kennels her home at the age of 2 1/2 years and has fit into our pack almost seamlessly. She is a stunning golden sable girl with exceptional movement - almost appearing to "float" with her beautiful flying trot as she moves along.

Very agile and quick on her feet, she can run like the wind and would be an absolute dream as an agility competitor. Phenotypically, she is very correct and is pretty hard to fault against our Breed Standard. Her OFA Excellent hips is yet another fantastic trait that she has contributed to our breeding program.
This girl is smart, smart, smart and has been extremely easy (and a pleasure) to train. She loves it when we are happy with her and just wiggles when it is time for pets.

Gillian has passed along so many of these wonderful traits to her offspring and it is very satisfying to know that they will be carried on and I look forward to seeing her daughters and sons used in our breedings in the future. Gillian will enjoy the benefits of retirement here at Guardian Kennels. Her son, Axel, will be used with Jetta this spring (2017)

* For 2016, Gillian was bred to Epics Majestic Rock Star (Rocky) - more information here

* 2014 Gillian/Austen pups may be viewed here.
* See 2015 Gillian/Lomax pups at this link.