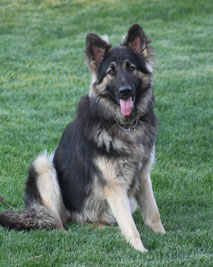 Guardian's MIDNIGHT JETSETTER - "Jetta"
JETTA
DM test - Clear
Holter Tested: Clear and OFA Hips: Good OFA Elbows: Normal
Jetta has completed her breeding career here at Guardian Kennels and has passed the torch to carry on her lineage to several of her incredible daughters. We have been extremely pleased at what Jetta has added to our breeding program and our Shiloh Shepherd gene pool, in general. She has produced some amazing pups that have carried on with her beauty, outstanding personality and sense of humour.

Jetta is a stunning black and tan dual. She is of incredible substance with solid bone, strong features and incredible muscling. She is everything that we look for in our Shilohs in personality as well. Nothing phases as she takes each new experience with confidence and enthusiasm and is sure that the world has been put here just for her enjoyment!

Jetta is currently tipping the scales at over 115 pounds and stands 29" at the shoulder. She is enjoying retirement and just "being a dog" here on the farm.